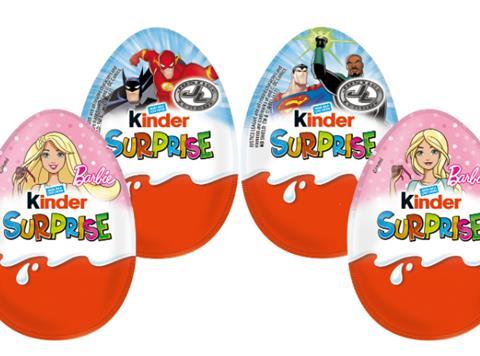 Ferrero has unveiled this year's Kinder Surprise pink and blue eggs for Easter, under licence from Mattel and Warner Bros.
Available from next month until mid-April, the limited-edition lineup of four SKUs contains toys based on Barbie and the animated Justice League TV show (rsp: 86p/20g). They are set to be backed by a £1.3m TV ad kicking off in March for six weeks.
The pink and blue variants first appeared in 2013, attracting criticism for gender stereotyping. They are now part of a Kinder brand that is the UK's fast-growing name in chocolate confectionery, with value sales up 24.6% (£24.3m) to £123.4m [Nielsen 52 w/e 8 October 2016].
Kinder had sustained its growth by appealing to many families as the "ideal way to treat children", claimed Levi Boorer, customer development director at Ferrero UK.
"We're confident these new limited editions will be a hit with parents looking to purchase a relevant treat for their children."
The launch comes two months after claims by The Sun that Kinder Surprise toys were made by Romanian slave workers – including children as young as six. Ferrero sacked the contractor involved and launched an investigation into the matter.