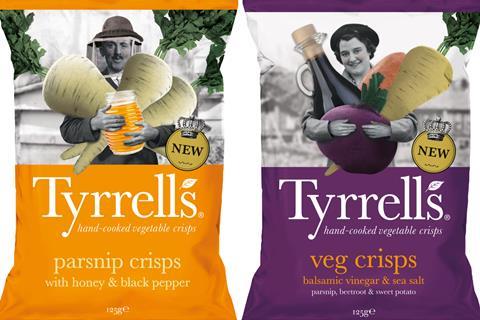 KP Snacks has unveiled the overhauled range of Tyrrells vegetable crisps as it seeks to re-establish the brand as a premium proposition.
Coming two months after The Grocer revealed KP's plan for the revamp, four variants are set to roll out to Sainsbury's, Waitrose and convenience stores.
New flavours Mixed Root Vegetables with Balsamic Vinegar and Parsnip with Honey and Cracked Black Pepper will join the reformulated Salted Sweet Potato and Mixed Root Vegetables with Sea Salt (rsp: £2.49/125g).
They came after KP invested an undisclosed amount in new technology that sliced vegetables to create a "larger and higher calibre" crisp whilst also reducing wastage, the supplier said.
"With fewer small pieces and less breakage in every pack, Tyrrells is providing a better overall experience to the consumer and ensuring its vegetable crisps remain the best quality on the market."
The relaunch will be backed by print advertising, social media and in-store activity – as part of a wider £2.5m investment for the Tyrrells portfolio. Kicking off on 13 September, 'Tyrrellbly Tyrrellbly Tasty' will cover cinema, TV, VOD, print, radio and social. It will premiere during screenings of the 'Downton Abbey' movie and run until early December.
The push was "designed to celebrate Tyrrells' authentic local provenance and heritage, as well as bringing to life what makes the crisps the best quality and taste" said KP marketing director Kevin McNair.
'Tyrrellbly Tyrrellbly Tasty' is the first above-the-line campaign for the Herefordshire crisps brand since it was acquired by KP's owner, Intersnack, in December 2017 for £300m.
Under previous owner Amplify Snack Brands, Tyrrells had seen its value in grocery dive 22.7% to £33.5m [Nielsen 52 w/e 9 September 2017].
Having last year clawed back around £17m, KP aims to drive growth by establishing Tyrrells as a high-quality, premium proposition, focusing on its farming roots.