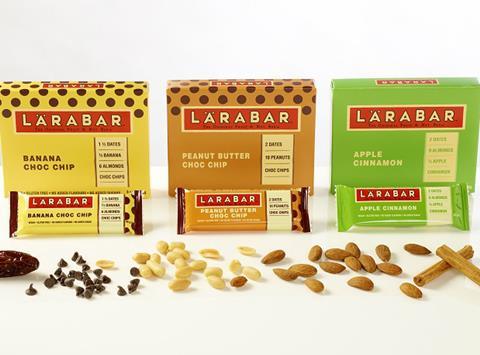 General Mills has secured listings with Sainsbury's for Lärabar, its $200m (£156m) vegan-friendly snack bar brand from the US.
It will make its UK supermarket debut this month in three variants – Apple Cinnamon, Banana Choc Chip and Peanut Butter Choc Chip (rsp: £2.90/3x45g) – as General Mills ramps up its healthier snacking portfolio, which also includes Nature Valley and Fibre One.
The plant-based Lärabar would play "a central role in General Mills' vision to become the UK's number one snack bar manufacturer" claimed the supplier. It would "allow the company to secure greater penetration of the UK's health and wellbeing market".
The launch will be supported by a £700k campaign featuring experiential and in-store sampling, shopper marketing, PR and social media.
Lärabar was a "trailblazing and original fruit and nut bar in the snacking category, and we've picked a range of flavours to appeal to the UK market" said Richard Williams, business director of new ventures at General Mills Europe.
"This is our most ambitious launch ever in the real food space, with deliberate investment on touchpoints that drive brand awareness."
With the brand also available via Amazon, e-commerce would be a key focus for UK growth to attract shoppers who "seek minimally processed real food" Williams added.
Lärabar's snacks will initially be imported from the US, where the brand was founded 19 years ago by Denver entrepreneur Lara Merriken. It was purchased in 2008 by General Mills, and last year achieved sales of $200m.
Prior to its acquisition by General Mills, the snacking brand was briefly available in selected UK independent retailers.