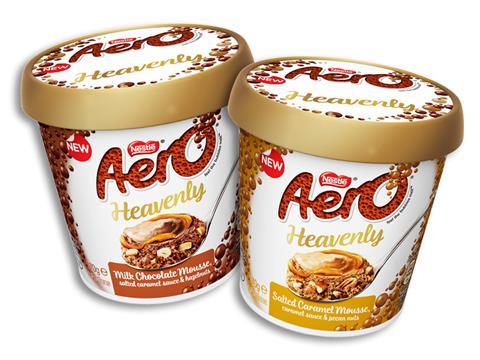 Lactalis Nestlé is targeting adults with a new after-dinner premium mousse offering in a sharing format.

Debuting in Asda this week, Aero Heavenly will be sold in chocolate and salted caramel flavours in 170g pots (rsp: £1.79).

Described as a 'fluffy mousse with swirls of caramel and chopped nuts', the range was aimed at the 'ever-popular evening sharing occasion', its makers claimed.

"The evening sharing occasion is becoming hugely popular as more consumers look to treat themselves after dinner," said François Boulard, senior brand manager at Lactalis Nestlé Chilled Dairy.

"We want to ensure our varied product range responds to this need and brings something truly revolutionary to the chilled desserts aisle. There is a clear gap in the market for a new and exciting treat for the evening occasion - one which we aim to fill with Aero Heavenly."

The chilled dairy manufacturer has also extended its Munch Bunch Squashums Huge Tubes range of fromage frais tubes for older kids with a banana & raspberry SKU. The new flavour was due to launch in Asda on 27 March (rsp: £2.15/6x60g).