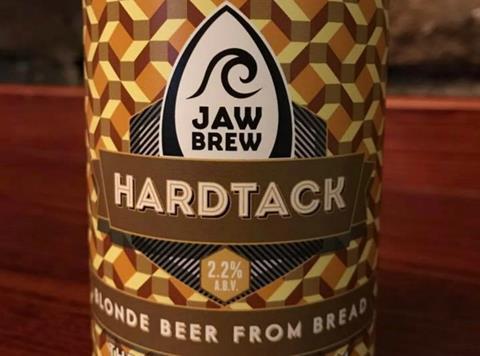 Leftover bread from unsold morning rolls are being made into beer as part of a move to reduce food waste in Glasgow.

Launched yesterday (27 April), the blonde, low-alcohol Hardtack has been developed by microbrewery Jaw Brew and bakery Aulds as part of a project led by Glasgow Chamber of Commerce.

The 2.2% brew, which is being sold in specialist shops (rsp £1.60/33cl can), is made from mashed bread with no added fermentable sugars.

The NPD came about after Aulds, which sells its products on a sale-or-return basis, was often left with a large surplus of bread at the end of each day. Most goes to foodbanks, but some is now given to Jaw Brew.

"We were delighted to partner with Aulds to produce a sensational beer, which is also helpful to the environment and fits well with Jaw Brew's ethos," said the microbrewery's owner, Mark Hazell. "We have had a lot of interest from specialist beer shops, as well as local golf and rugby clubs that are keen to offer a low-alcohol alternative."

The project has been recognised as part of the City Circle Scan of Glasgow, led by Glasgow Chamber of Commerce in collaboration with Zero Waste Scotland, Circle Economy and Glasgow City Council. The scheme examines potential areas to make the largest economic sectors within the city more circular, in the hope this would result in zero waste.

"Hardtack shows how two companies can work together to use waste products and, by adding value through the product development process, make a difference to their bottom line while at the same time helping the environment," said Alison McRae, senior director of the chamber of commerce.

Last week, London-based Toast Ale successfully raised £27,952 starting from a £20,000 Crowdfunder target in 28 days to expand its range of beer made from unsold loaves. The business - founded with Toast Pale Ale last year - will use the funds to expand and brew two new beer styles: a Session IPA and a Craft Lager. Its aim is to reduce the "scandalous 46 million slices of bread currently thrown away every day" and recycle more than 100 tonnes of bread within three years.