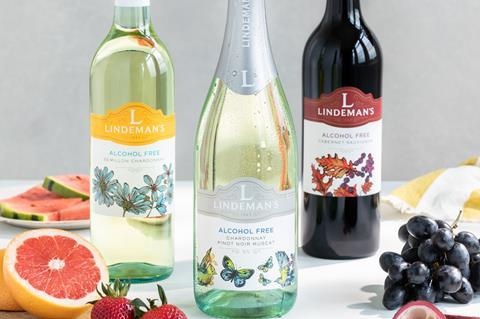 Treasury Wine Estates is taking its Lindeman's brand into the no and low-alcohol sector with a trio of 0.5% abv wines.
The wines – a chardonnay, cabernet sauvignon and a sparkling blend of pinot noir and muscat – will roll into Asda and Morrisons this month.
The range "has been developed to encourage consumers who are more regularly avoiding alcohol back into the wine category, offering them an alternative to soft drinks that tastes as good as its alcoholic counterpart", said TWE.
"We know that the wine industry is changing and that consumers are turning to other drinks categories, or choosing not to drink at all. By giving shoppers an alcohol-free alternative from a consumer favourite like Lindeman's, we are helping to recruit these consumers back into our category and providing them with new ways in which to enjoy our wines," added the brand's European marketing director Kirstie McCosh.
The launch will be backed by a through-the-line marketing campaign with in-store merchandising with FSDUs, shelf talkers and wobblers, social media activity and sampling.
It marks the latest in a series of launches from TWE so far this year. In February it launched Embrazen, a new wine brand based around "great female trailblazers", and last month unveiled a botanical-infused 'Gin Fizz' drink for its Blossom Hill brand. Blossom Hill Spritz has also recently forayed into cans.