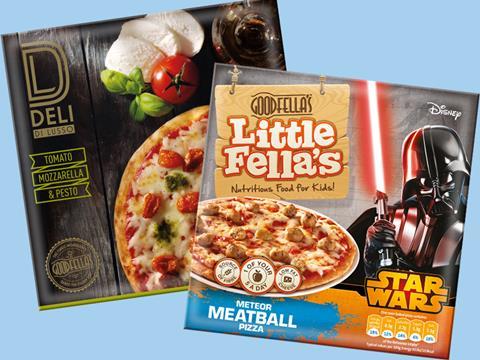 Goodfella's is next month expanding its line-up with two new sub-brands - Littlefella's children's pizzas and the Deli Di Lusso range designed to boost perception of the quality of frozen pizza.

The business has licensed Disney characters for Littlefella's, which comprises an Enchanted Chicken pizza featuring Frozen; Meatball Meteor pizza featuring Star Wars; and Cheeky Cheese and Tomato pizza featuring Mickey Mouse Clubhouse (all rsp: £1.50).

Littlefella's had been developed to be healthier than standard pizza, and used ingredients such as low-fat mozzarella and a blend of tomato sauce and red pepper. Compared with a typical thin margherita, Littlefella's had 60% less fat and 30% less salt and sugar, said the supplier.

A marketing push including TV will be targeted at parents and promote the products being lower in fat and containing one of the 5 a day. The range will also benefit from the launch of a new Frozen short movie, screening ahead of the live-action Cinderella (13 March), and new Star Wars movie The Force Awakens in December.

"Children account for 25% of the pizza market, and it was important to us to offer a product that was nutritionally superior," said marketing manager Stew McGuckin.

Littlefella's will debut in Tesco on 16 March ahead of a wider rollout, as will Deli Di Lusso.

"Frozen pizza has historically lost value and volume to chilled as chilled was perceived as offering better quality," said McGuckin. "We believe Deli Di Lusso can challenge this."

The new pizzas have an artisan-style base, high-quality toppings and, with an rsp of £3, are priced in line with standard frozen pizzas.

"We hope to drive value by bringing lapsed shoppers back to frozen pizza," added McGuckin.