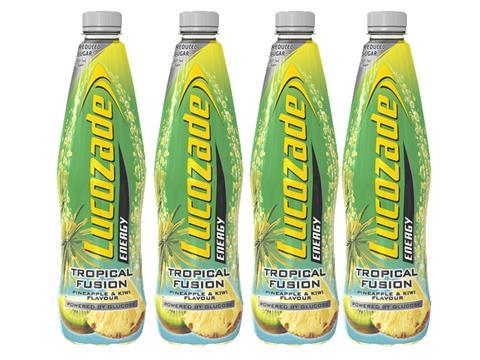 Lucozade Energy is replacing the reduced-sugar Cloudy Lemonade it launched last summer with new variant Tropical Fusion.
The supplier said Lucozade Energy Cloudy Lemonade - which was the brand's first reduced-sugar drink - had been popular, but added it was "constantly looking" to refresh its portfolio to meet changing consumers tastes.
Rolling out this week, the drink is a blend of pineapple & kiwifruit, and is designed to tap consumer demand for tropical flavours following the success of Lucozade Energy Grafruitti, which launched earlier this year. Brand owner Lucozade Ribena Suntory (LRS) claimed Grafruitti had been the best-performing NPD in the sport and energy category this year, with sales of £6m in seven months [Nielsen MAT 18 July 2015].
Reduced Sugar Tropical Fusion will be available in 380ml, 500ml, six-pack and one-litre formats, and will be backed by in-store activity including meal deals.
"This is one of our best-tested products that is sure to be a big hit with shoppers, while also marking a key step in our long-term commitment for calorie reduction," said marketing manager Lesley Stonier, adding two-thirds of the Lucozade Energy range sold in the UK and Ireland now contained up to 8% less sugar and calories than in 2011.
LRS this week rolled out two new Ribena no-added sugar RTD drinks. The move came four weeks after Tesco announced it was axing all added-sugar juice drinks targeted at children, although LRS denied the move was in response to this.