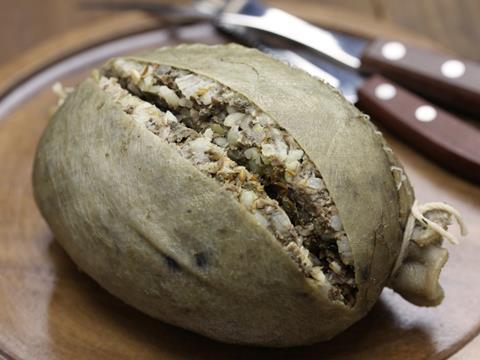 Macsween has created a new haggis recipe for the US in anticipation of the lifting of an import ban.
Imports to the US were halted in 1971 due to a ban on food containing sheep lung. But speaking ahead of a trade mission to the US this week, Scottish rural affairs secretary Richard Lochhead suggested the ban could be overturned if producers "tweaked" recipes.
With more than 30 million Americans of Scottish descent, Macsween MD James Macsween said lifting the ban would be a "massive opportunity" for haggis. The company already has the ability to sell its vegetarian haggis in the US.
"We have [already] put in the development effort and are happy we have a robust and satisfactory recipe," he said. The special recipe uses FDA-approved offal and no traces of sheep lung.
"I am realistic, there are no promises on the table," he added. "But it feels it has been getting nearer over the past few years - we are confident we can produce a tasty haggis [for the US] to the Macsween standard."
Closer links
But while applauding Richard Lochhead's trade mission, and his "efforts for Scotland's food industry", another haggis producer claimed his product already fulfiled US criteria and could be supplied "next week".
"We have been producing a recipe without lamb lung for over twenty years," said Gordon Allan, director of Scottish butcher brand Malcolm Allan.
"This means we could sell the haggis in America saying with confidence that it is purchased every week in Scotland by Scots," he added. "We also have excellent links with Walmart in the states and as we already produce own label lines for Asda in the UK all the necessary accreditations to be able to supply the product."