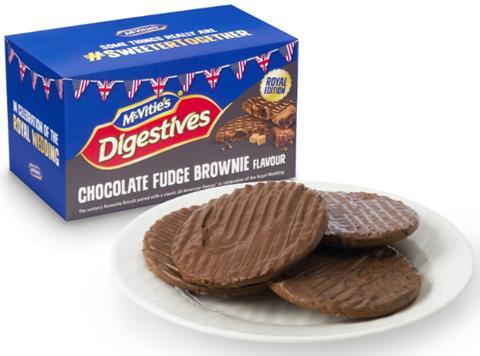 McVitie's has created a special-edition Digestives to mark the royal wedding on 19 May, offering a very limited number of packs for this week only via the brand's Twitter channel.
The "transatlantic" Chocolate Fudge Brownie biscuit was the winner of a Twitter poll last month that saw almost 70,000 people take part. It topped the list with 52% of the vote, beating other US flavours Mississippi mud pie (23%), peanut butter & jelly (12%) and pecan pie (12%) – suggested in recognition of Meghan Markle's nationality.
The resulting snack combined "the popular classic McVitie's Chocolate Digestives recipe with the addition of fudge pieces, cocoa and brownie flavouring to the digestive biscuit base", said McVitie's.
Just 50 packs will be available via the brand's Twitter channel from today (14 May) to Friday (18 May).
Developing a new variant was "never as simple as it seems" said Gareth Payne, lead product design manager at McVitie's owner Pladis. "We started with nearly 20 recipe ideas, and – after five rounds of taste tests, sampling over 200 biscuits, a dash of McVitie's creativity and a little tinkering – we finally landed on a combination of ingredients to create the delicious new, exclusive biscuit."
Last year, McVitie's created a cake to mark the 70th wedding anniversary of the Queen and Prince Philip. The brand was chosen in 2011 to make a groom's cake for Prince William from 1,700 Rich Tea biscuits and 17kg of chocolate.