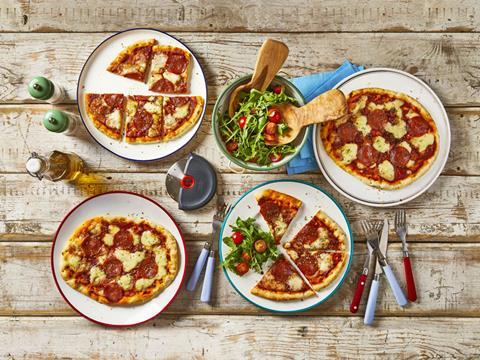 Meal kit firm Gousto has added a range of pizzas to its cook-at-home recipe boxes.

The oval-shaped pizzas are designed to be a healthy portion size, at around 8in by 10in, and nutritionally balanced.

Weekly rotated flavours in the Pizza Night Range include Ham & Mushroom, Sausage & Shallot, Bacon & Pineapple and Tomato & Basil Pesto.
They cost from £2.98 per pizza depending on order quantity.

Gousto CEO Timo Boldt said health concerns meant "not everyone's 100% happy with the pizzas they are purchasing and consuming even as a weekly treat".

"Our team has worked hard at producing a range of pizzas that are tasty and guilt-free with carefully selected ingredients, the right portion size and positive nutritional value," he added.

Last month Gousto launched its first TV ads in a £2m campaign which followed a £28.5m investment into the business in March.