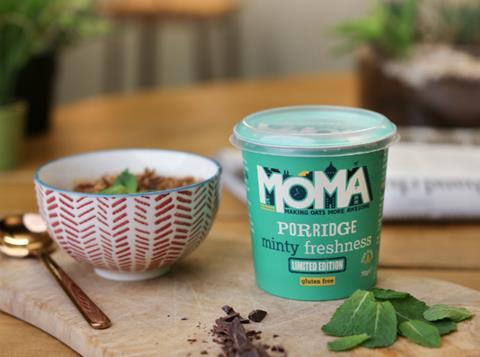 Breakfast brand Moma has unveiled a gluten-free mint & chocolate porridge pot that it claims freshens breath.
The limited-edition Minty Freshness is made with natural peppermint essence, wholegrain oats, spirulina, skimmed milk, coconut sugar and cacao.
Joining Moma's eight-strong line-up of porridge, which includes Almond Butter & Salted Caramel and Cranberry & Raisin flavours, the NPD is available from Moma's website, priced £1.29 per 70g pot.
The launch comes after the brand conducted a poll of 2,000 office workers and found that more than half (58%) worried about having bad breath in the morning.
"We want to ensure that people are equipped to make the most of their mornings, without having to worry about not getting a nutritious breakfast, or about their breath if they happen to forget to brush their teeth," said Kate Jackson, product and innovation manager at Moma.