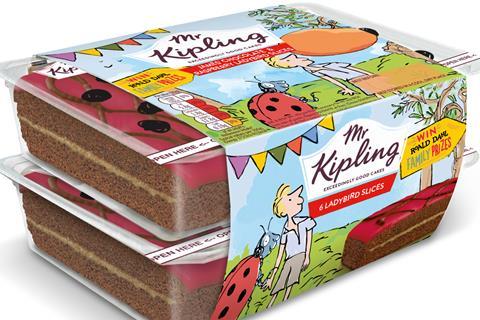 Mr Kipling has heralded the return of its limited edition Roald Dahl-themed range for a second outing – with new variants joining popular lines from last year.
Fantastic Mr Fox's Apple Mini Batts and James's Chocolate & Raspberry Ladybird Slices are rolling out now across grocery alongside George's Marvellous Lemon & Raspberry Whirls and The BFG's Strawbunkles & Cream Fancies – both of which made their debut in May 2018.
The latest lineup is completed by new SKUs available exclusively to selected retailers. Miss Honey's Delightful Honeycomb Flavour Fancies and Bruce Bogtrotter's Chocolate Fudge Whirls are Tesco-only, while Morrisons is the sole stockist of James' Peach Slices, and The BFG's Frobscottle Fancies is exclusive to Asda (rsps: £1-£1.50).
The launch is backed by an on-pack promotion offering the chance to win thousands of prizes, including Roald Dahl-inspired holidays, family days out and theatre trips.
The Mr Kipling cakes will be available until 3 September. They had returned after last year's partnership between the Premier Foods brand and The Roald Dahl Story Company "was incredibly successful, driving £4m retail sales value and contributing to the category's overall growth of 1.4% over the summer period" said Matthew Bird, Premier's brand director for sweet treats.
"It's a great partnership to be involved in, with two brands that highly value the importance of coming together as a family."