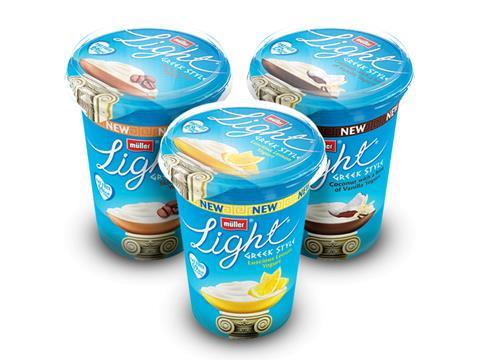 Müller has returned to the big pot yoghurt category after five years with the launch of a 500g Müllerlight range.

The Greek-style fat-free yoghurt contains no added sugar and launched in Tesco last week in skinny latte, coconut & vanilla, and lemon flavoured variants, at an introductory price of £1.

The new range marks a return to the big pot category by Müller for the first time since October 2011, when sales of a 450g Müllerlight strawberry variant ended after a six-month stint on Ocado.

It previously attempted to break into big pots in the early 2000s but pulled out in 2003 due to poor sales and an "immature market".

The move back into big pots was part of the dairy giant's category vision to increase consumption and add up to £230m (or 8%) to UK yoghurt sales by 2019. "Based on market trends, fat-free big pots are in growth, said a Müller spokesman.

"With new and exciting flavours, Müllerlight is the perfect fit for this opportunity."

The launch was described as "interesting" by Hamish Renton, MD of food consultancy HRA. However, it faced stiff compatition from big pot market leaders such as Yeo Valley, he added.

"I'm sure it can play a role in the category but it will be harder for Müller to leverage its strengths with big pots; it's much more about the quality of ingredients and provenance."

The new launch comes less than a fortnight after Public Health England presented sugar reduction proposals for the yoghurt sector, which could lead to the imposition of a 125g portion size cap on single-serve yoghurts and category-wide targets to remove 5% of all sugar by September 2018, rising to 20% by March 2020.Müller declined to comment on whether its new range would be affected, and said it was evaluating PHE's proposals.