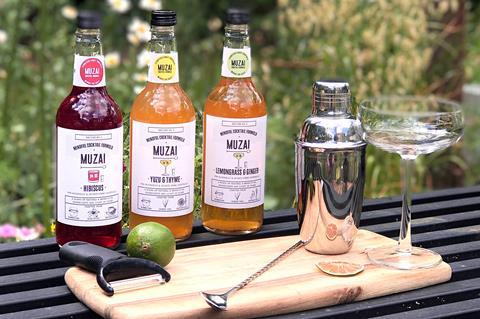 Mindful mixer brand Muzai has debuted with a range of craft cocktail mixers.
Billed as 'The Mindful Cocktail Formula', Muzai's drinks are crafted from a blend of organic tea, kombucha, organic agave and botanicals.
They had been designed to be mixed with either spirits or soda water for cocktails or mocktails that were "bar quality", it said.
Muzai claimed the range was the world's first cocktail mixer incorporating kombucha, with each bottle containing 12 month-fermented kombucha, which provided consumers with "beneficial acids". The organic tea incorporation, meanwhile, was said to provide antioxidants, while the use of agave instead of sugar meant the finished cocktails contained up to 50% less sugar than comparable classics.
The brand has debuted with a range of three flavours: Yuzu & Thyme, Lemongrass & Ginger and Hibiscus (rsp: £8.99/500ml).
The brand was founded by Tom Shellard, who discovered the concept when living in Tokyo, spending time with friends who would socialise over green tea cocktails.
He said when drinking these cocktails he felt more present, with the ingredients having a "calm and focused" effect.