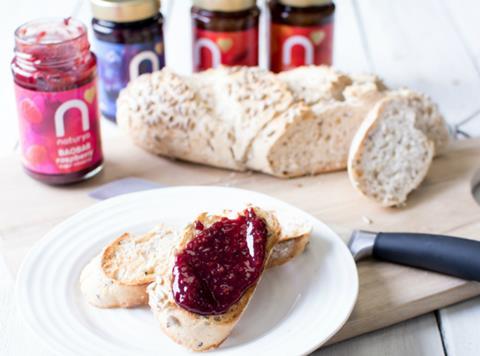 Superfood brand Naturya has broadened its portfolio with a range of low-sugar conserves and its first selection of snack bars.
The Super Conserve quartet comprises Goji Strawberry, Acai Blueberry, Baobab Raspberry and Maca Apricot. They would roll out early this month in response to the jam category's "lack of true innovation", said Naturya.
With an rsp of £4.99 for 285g, the premium variants contained between 37% and 46% sugar, provided by agave syrup. "Traditional" jams contained 55% to 60% sugar, the brand added.
"Using our expertise in healthy foods and nutrition, we saw an opportunity to shake up the category," said Alison Wilde, Naturya marketing director.
Health-conscious shoppers are the target for the brand's new Superbar lineup. Berry, Seed and Cacao variants each contain least seven superfoods, including chia seeds, mulberries, goldenberries, hemp seeds and cacao. They offer at least 17.5g of plant protein per 100g.
The bars are sweetened with unrefined maple syrup, rather than the category's commonly used dates, which "come at a price – a sugar-loading price", according to Wilde. "We want to raise the category standard for healthy snacking."
Superbar will be available from mid-September (rsp: £1.99/40g).