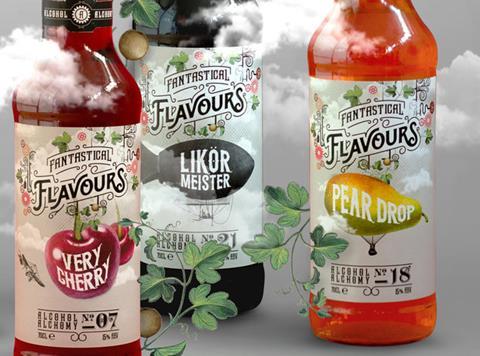 Former Kopparberg sales director Daryl Moss has launched a new liqueur brand.
Fantastical Flavours is a range of 15% ABV drinks sold in 70cl bottles (rsp: £7.99) in three flavours: Very Cherry, Pear Drop, and fiery spice-flavoured Likörmeister. The business said it was in 'positive discussions' with multiples, convenience retailers and discounters about listings.
The brand's packaging features retro, steampunk-inspired designs, with imagery such as hot air balloons and airships, and each flavour also has a product number printed on the bottle.
"The team behind Fantastical Flavours are alchemy enthusiasts so we wanted to take that passion and create an intensely-flavoured, affordable drink fit for the modern day consumer and that also packs a punch," said Moss. "Looking into the history of this old tradition was extremely informative when it came to developing the product and from our research into current trends and consumer demand we found that there is a gap in the market for what we wanted to do.
"We understand that we need to not only promote the product, but to create a lifestyle and experience to support the unique offering. Through design-led branding, an engaging social media campaign and highly targeted sampling at key summer events, we have created a strong lifestyle and image of the brand."