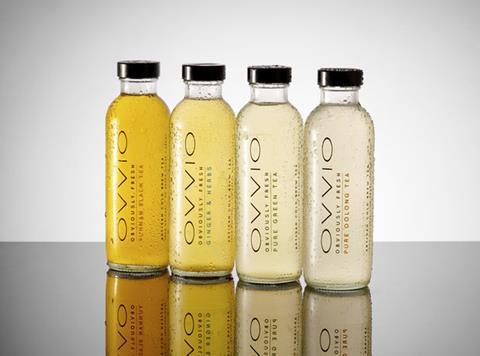 A new artisan ready to drink cold-brew tea brand has made its debut.
The Ovvio brand, from the company of the same name, comprises nine calorie-free tea blends "packed full" of antioxidants and made with no added sugar or artificial ingredients (rsp: £3.95 to £4.95/240ml).
The brews would provide a healthier alternative to traditional iced teas, claimed Ovvio, adding that while iced tea had a reputation of being a "healthy choice", many consumers failed to realise some brands contained just as much sugar and preservatives as their soft drink counterparts.
Available from Harvey Nichols, the portfolio was launched last month with a rose petals, buds, mint & hibiscus variant alongside Yunnan black tea, green tea, rooibos, darjeeling, ginger & herbs, turmeric & herbs, oolong tea and matcha latte blends.
Cold-brew tea - a popular beverage in Far East Asia - is made by adding tea leaves to cold water and refrigerating it for a minimum of eight hours. The process is said to showcase the flavours of tea more effectively than hot water from the kettle.
Ovvio will be hoping to tap a growing UK trend for the drinks, with cafés around the country adding cold-brew tea to their menu.