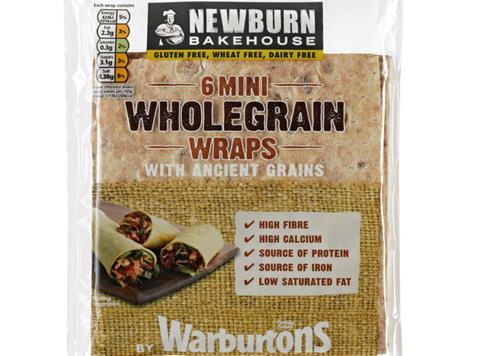 Warburtons' free-from brand Newburn Bakehouse has added mini wholegrain wraps to its sandwich alternative portfolio.
The Mini Wholegrain Wraps product, which is gluten, wheat and dairy-free, is made with brown rice and maize and contains five wholemeal flours, including three ancient grains - teff, sorghum, and quinoa.
Rolling into Sainsbury's and Ocado this week, the wraps come with a £2.99 price tag for a pack containing six 35g servings - the "perfect size" for the lunchbox, said free-from director at Warburtons Chris Hook.
The launch formed part of the brand's strategy to "lead the way on innovation and diversification" in the category, he said, and would tap into the growing demand for products that didn't just appeal to those with intolerances, but to anyone wanting to choose free from as part of a healthy lifestyle.
"We are thrilled to be able to offer every consumer the opportunity to incorporate wholegrains, including ancient grains, into their diet in an easy and delicious way."
The wraps grow the brand's sandwich alternative portfolio to six products, joining the existing two wraps - white and seeded, and three 'thins' - seeded, white and fruity, on shelf.