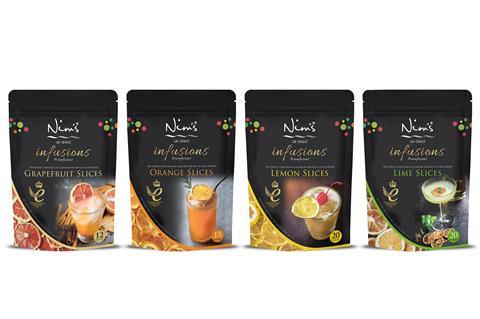 Nim's Fruit Crisps is eyeing growth in the drinks sector with a new range of 'Infusions' fruit slices.
It has launched four air-dried fruit SKUs, which are designed to garnish and infuse water, tea and alcoholic drinks.
They are: lemon, lime, orange and grapefruit (rsp: £3.95).
They will be joined next month by pink grapefruit, cucumber and kumquat variants.
The brand's founder Nimisha Raja said she wanted to "try and replicate the success of our fruit & vegetable crisps" with the infusions, by "investing heavily in new branding, easy-to-seal packaging and ongoing product development".
The infusions come in packs of 12 to 20 fruit slices and are billed as "a sustainable way of having fruit at the ready".
They were "ideal for people who have got their own home bar or are attempting to make new creations whilst under lockdown," said Raja.
Due to their ability to rehydrate when added to drinks, there was "no waste that you would usually get when using fresh fruit" she added.
"Despite all of the pressures we are facing, we will continue to innovate and bring new products to market. It's what we do best."