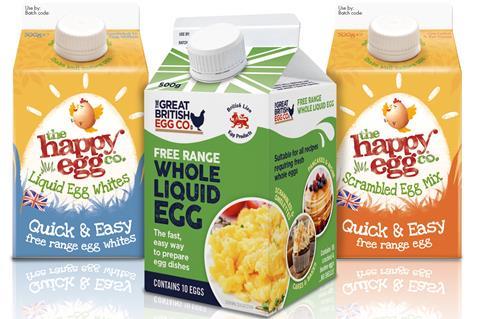 Noble Foods is to make its liquid egg foodservice brand The Great British Egg Co available to retailers, as it aims to keep up with a coronavirus-induced boost in demand for eggs.
The egg producer and processor will offer 500g cartons - said to be equivalent to 10 shell eggs - of whole free-range (rsp: £2) and colony (rsp: £1.60) eggs under the recently-launched brand.
Previously, these products had been sold to restaurants, pubs and fast food outlets. But now they will be marketed to consumers as an alternative to shell eggs, which have been in short supply in retailers.
Whilst Noble said listings were in the process of being negotiated with retailers, the products are expected to hit shelves by the end of April.
"With households on lockdown, more meals are being consumed within the home than ever before; the versatility and health credentials of eggs have made them a natural go-to for quick and filling breakfasts, lunches and dinners, leading to a significant uplift in consumption," said MD of Noble Foods Veli Moluluo.
"Our hens can only lay a finite number of eggs and it takes a considerable amount of time to increase our flock sizes. However, by switching the liquid egg products into retail, we can minimise waste and help relieve the pressure on shell egg supply."
Currently, shell eggs destined for foodservice cannot be sold in retailers as they're typically graded Class B with either blemished or unclean shells. It means they are only sold in pre-broken formats.
Speaking to The Grocer last week, Moluluo said liquid eggs were still a "niche" product and over-indexed among bakers and health-conscious consumers.However, he hoped education and shelf-edge labelling would help redirect shoppers to liquid egg cartons if shell eggs were out of stock.
The SKUs will join Noble's current line-up of liquid eggs in retailers, which are sold under its The Happy Egg Co. brand.
It comes after free-range egg producers this week expressed concerns that a coronavirus-induced recession could see British consumers switch towards lower-standard eggs.
"The worry is that if coronavirus does create a recession, consumers will be less selective if they're feeling a pinch," said British Free Range Egg Producers Association CEO Robert Gooch.