Each month The Grocer takes a deep dive into the hotly anticipated plant-based launches on their way to UK retailers' shelves. This time around we've got meat alternatives galore and chocolatey treats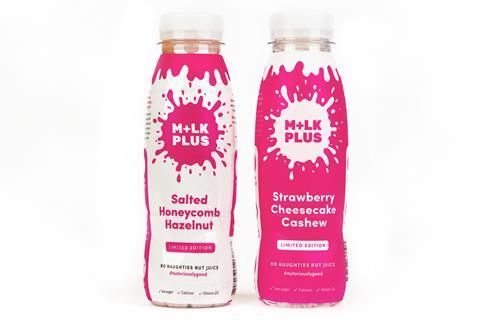 M+lkplus
The runner-up from The Apprentice 2018, Camilla Ainsworth, has launched her dairy alternative brand M+lkplus into Holland & Barrett.
Salted Honeycomb Hazelnut and Strawberry Cheesecake Cashew variants of the self-styled 'no naughties but juice' are on sale (rsp: £1.99/330ml). The pair, designed for on-the-go consumption, are fortified with vitamin D3 and calcium, claiming no added sugar and a nut content "40% higher than competitors on average".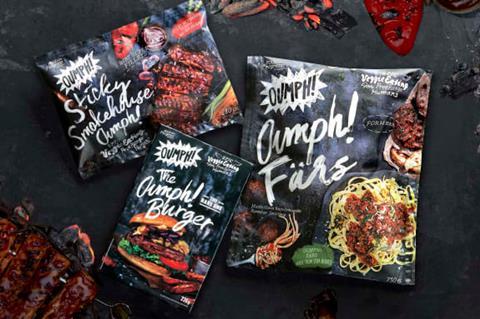 Oumph
Swedish vegan meat brand Oumph has launched vegan ribs, smothered in sticky, smoky barbecue sauce.
The rib-like fillets are among a three-strong range of NPD, which also includes a plant-based burger, infused with beetroot juice to give the illusion of a rare beef burger. A veggie mince makes up the trio, designed to work in tacos, Bolognese sauces, meatballs and burgers.
All three in the range are due to hit British shores soon in both retail and foodservice, building on the success of Oumph's relationship with Tesco, which currently stocks the brand's chicken and pork alternatives as well as its vegan pizza.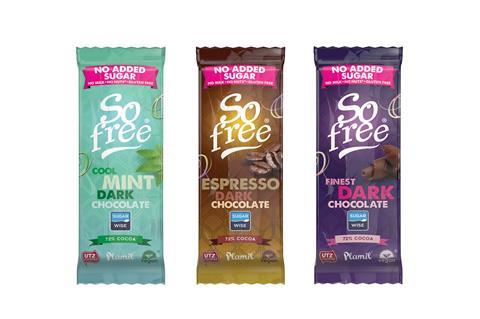 So Free
Plamil's So Free vegan chocolate snack bars are also free from added sugar, gluten and nuts. Instead, they're sweetened with xylitol from Finnish birch trees.
The range of 72% cocoa bars has just gone on sale in Holland & Barrett in three flavours: Finest Dark Chocolate, Espresso Dark Chocolate and Cool Mint Dark Chocolate (rsp: £1.19/35g).
Bonsan
Windmill Organics has extended its Bonsan Absolutely vegan range to include alternatives to fish and ghee, as well as a range of jackfruit SKUs.
The Fishfree range comprises fillets and 'tofuna', both made with kombucha-fermented tofu, dubbed 'kofu' by the brand. They're flavoured with seaweed, lemon juice and sea salt to "bring a fresh and natural taste of the ocean" (rsp: £2.99 to £3.99).
Meanwhile, its vegan ghees come in extra virgin olive oil and sunflower oil variants, both of which are blended with cocoa butter to create a product which can be used in place of butter for spreading, baking and cooking. The ghees are set to go on sale this summer, while stockists for the rest of the range include Whole Foods Market, Ocado, The Vegan Kind Supermarket and Planet Organic.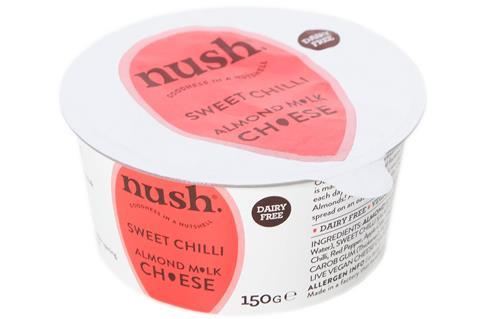 Nush
Nush has launched a chilli variant of its almond-based alternatives to cheese. The new flavour adds to its natural and chive 'che*se' SKUs, all three of which are fortified with probiotic cultures created by ageing almond milk during production.
The new product, alongside Nush's yoghurt alternatives, has gained listings in Holland & Barrett (rsp: £2.75/150g).
Each pot contains 35 Sicilian almonds, is vegan, all-natural, comprised of whole ingredients and free from dairy, lactose, gluten, soya, preservatives, additives and refined sugar, says the brand.
This
It's refreshing to see NPD in meat alternatives and not a burger in sight. Plant-based startup This has unveiled a vegan alternative to bacon it claims can "fool carnivores".
Its soy and pea-based bacon alternative is set to roll out into Holland & Barrett chillers and Patty & Bun restaurants in the first week of June (rsp: £2.95). The brand will also roll out a host of alternatives to chicken, as both snack-ready packs and ready-to-cook meal components.
The brand created the range to appeal to meat-eaters who "just don't like squishy tofu".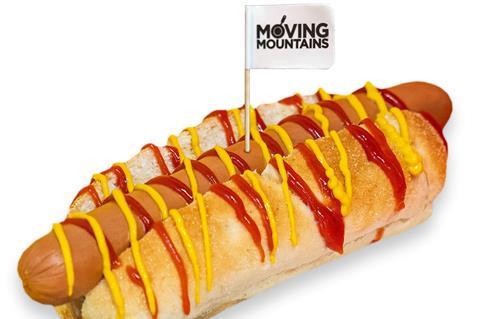 Moving Mountains
The Moving Mountains hot dog is soy, wheat and pea-free, with sunflower seeds making up its primary ingredient. It had gone through "countless recipes" to reach the final formula, which also features carrot, onion, paprika and coconut oil.
The result was described by Moving Mountains as a "naturally smoked flavour and firm yet bouncy texture", which is claims is "identical to its pork counterpart in taste, smell and texture".
Its 10-inch hot dog is due to roll out in foodservice initially, launching into London restaurant Unity Diner in May at £12. The food tech brand says it is already working on different flavours and size variants designed for supermarkets, with whom it was already in discussions ahead of a planned rollout later this year (rsp: TBC).