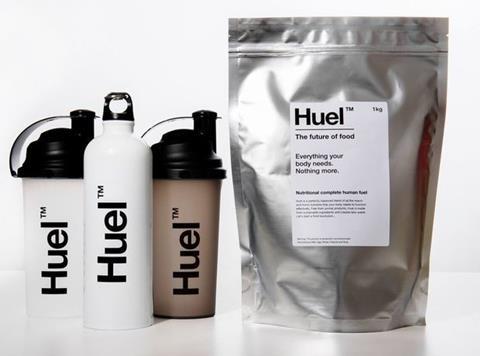 An entrepreneur has unveiled a 'nutritionally complete' powder that he claims can replace food.
Huel – which contains ingredients including oat flour, pea protein, brown rice protein, flaxseed and MCT oil from coconut - can provide at least 100% of the UK and EU reference nutrient intakes in a 500g daily portion, according to creator Julian Hearn. The name of the product is a contraction of the phrase 'Human Fuel'.
Huel is sold on the brand's website in a pack containing two 1.74kg sachets (rsp: £45) that are designed as a week's supply and works out at £6.43 a day for someone consuming 2,000 calories daily. Users mix the powder with water to create a shake or mousse.
The full Huel ingredients list
Oat Flour, Pea Protein, Brown Rice Protein, Flaxseed, MCT powder (from Coconut), Sunflower Lecithin, Vitamin and Mineral Blend: Potassium (as Potassium Citrate), Chloride (as Potassium Chloride), Calcium (as Tricalcium Phosphate), Vitamin C (as Ascorbic Acid), Choline (as L-Choline Bitartrate), Vitamin E (as D-Alpha Tocopheruyl Acetate), Niacin (as Niacinamide), Pantothenic Acid (as Calcium-D-Panthotenate), Vitamin B6 (as Pyridoxine Hydrochloride), Riboflavin, Vitamin A (as Retinol Palmitate), Iodine (as Potassium Iodide), Folic Acid, Chromium (as Chromium Chloride), Vitamin K1 (as Phytonadione), Molybdenum (as Sodium Molybdate), Biotin, Vitamin D2 (as Ergocalciferol), Vitamin B12 (as Cyanocobalamin), Copper (as Copper Citrate), Vanilla Flavour.
Hearn, a former online marketer for Tesco and Waitrose, devised the idea while working on his previous project, fitness website Bodyhack. After realising diet was more important than exercise in maintaining good fitness, Hearn found there was no convenient way to eat a genuinely balanced diet. He collaborated with nutritionist James Collier to develop vegan product Huel, which he said provides significantly more protein than in the reference intake. Though not currently gluten free, Hearn said this was a change he planned to make once the scale of production has increased.
The powder has a mild vanilla flavour, said Hearn, adding coffee or fruit can be added to vary the taste, and that the brand may be extended in the future to include flavoured powders. Although Huel can be consumed as a complete diet, Hearn said he expected most users to replace 50% to 80% of their food with the powder.
"Our main target market is going to be non-gym goers," he added. "Someone who wants complete nutrition, wants a simple life, but doesn't want to be associated with building muscle.
"It seems it wasn't so long ago that we could only imagine a world where we'd be able to consume everything our bodies needed without having our time taken up by planning and preparing meals.
"At every stage of the development process, our priority has been to keep the product as clean, true to life and as wholesome as possible. We have achieved our goal of delivering a balanced and healthy diet with 100% of the recommended nutritional value, without a lettuce leaf in sight."