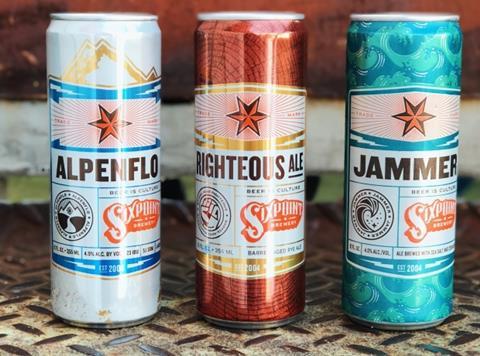 New York craft brewer Sixpoint has boosted its UK range with a trio of specialist brews.
It has added Jammer, a 4% abv Gose beer, Righteous Ale, a 10.5% abv barrel-aged rye ale made with three types of rye malt, and Alpenflo, a 4.9% abv Helles lager. They will be distributed to wholesalers by beer importer Heathwick.
The new beers were "a direct result of our NPD team's efforts since Brewmaster and Chief Product Officer Eric Bachli came on board in September", said Sixpoint marketing VP Max Nevins. "Jammer is light and tangy, Righteous is super rich and complex, and then Alpenflo is a certified classic German Helles that's been getting rave reviews."
Jammer and Righteous Ale will be available only until September as limited releases, but Alpenflo will be available all year round. Their launch will be backed by promotions around American Independence Day, including tap takeovers.
Sixpoint was "one of the top selling beers in the New York Metro area", said Heathwick GM Graham Richardson. "We're seeing many of the city's facets being replicated in the UK market. Following a successful launch earlier this year the time is now ripe for Sixpoint to build on its US provenance here in the UK and offer consumers what they're looking for: a premium quality, authentic, American craft beer range that's new, innovative and different."
The brewery first cut a deal with Heathwick to expand its distribution across the whole of the UK in February this year, having previously seen only limited distribution and on-trade listings with the likes of JD Wetherspoon.