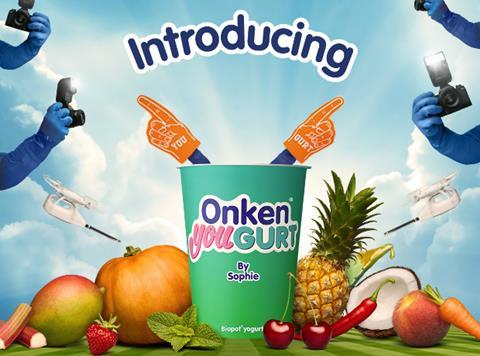 Yoghurt brand Onken has launched a limited edition personalised yoghurt range called Onken YouGurt in collaboration with food designers The Robin Collective.

For the month of September, consumers can create their own yoghurt flavour combinations online for a chance to win a pot of Onken YouGurt with their name on.

Consumers make the yoghurts online by picking three flavours from a list of 12 ingredients, including pumpkin, rhubarb, mint, carrot, agave syrup and mango.

As part of the campaign, every day from 1-30 September 50 winning pots will be picked and delivered to their creators.

"This campaign is new and playful and really brings out the characteristics that make Onken famous - creamy, bold flavoured, delicious yoghurt," said Julie Plant, managing director at Onken owner Emmi UK. "We can't wait to see the public's exciting fruity combinations throughout September."

Robin Fegen, director at The Robin Collective, said it had done "a huge amount of experimenting" to ensure every flavour combination "tasted great".

"We started with dozens of ingredients, from the most popular to the weirdest and wonderful. It was a true labour of love to mix every combination under the sun while ensuring each tasted deliciously Onken - creamy, bold and fruity - as we whittled it down to the final 12 ingredients."

The campaign follows the brand's launch of Onken Plain Grain yoghurt earlier this year, which combined slightly sweetened creamy plain yoghurt with five different wholegrains to create a "unique offering" in the yoghurt category.