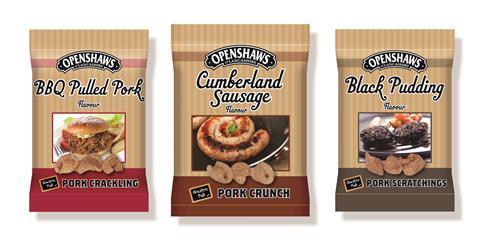 Snack producer Openshaws has extended its pork scratchings and crackling portfolio with three new variants.
The trio - rolled into independent retailers, farm shops and delis under the company's Gastro Pub banner last week - comprises Black Pudding Pork Scratchings and BBQ Pulled Pork Crackling in 45g bags alongside Cumberland Sausage Pork Crunch in a 25g format (all rsp: 99p). The crunch came with a higher volume price as it used different raw materials than the other lines and was cooked three times - making it more expensive to produce - said the business.
Lancashire-based Openshaws, part of Freshers Foods, said the trio would tap the "huge popularity" of retro flavours in the snacking sector.
"The UK is back in love with pork scratching and we have seen increased demand in both the pub and retail sectors alongside an increasing appetite for different tastes", said founder David Openshaw. The company's core pork scratchings range is available from Asda and Tesco, and the brand was now looking to secure listings with the major supermarkets for the new flavours, he added.