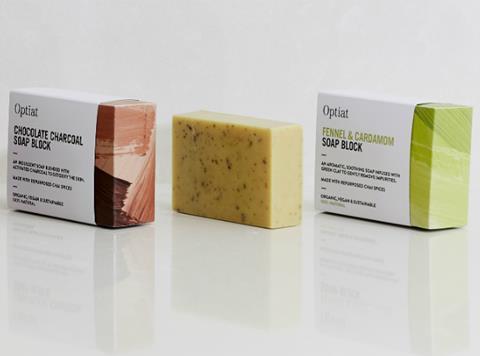 Optiat, the personal care startup that incorporates food waste into its products, is set to roll out a soap bar range containing used chai spices.
Three variants, Chocolate Charcoal, Cinnamon & Ginger and Fennel & Cardamom, are scheduled to be available from June, made with pre-brewed spices from chai tea company Henny & Joe's. Vanilla & Nutmeg and All Spice are expected to follow.
To fund manufacturing, the business has kicked off a two-week Crowdfunder campaign with a target of £2,000 in exchange for personal care gifts. At the time of writing, it had reached 67% of its target – £1,335 – from 20 backers, with nine days to go. The largest pledge of £1,000 came via GoDaddy's What's Your Idea? competition last month for small businesses, which saw Optiat co-founder Anna Brightman among the winners of the women entrepreneurs round.
The palm oil-free soap will be the third sustainable skincare lineup from Optiat. The London brand launched in April 2016 with a selection of face scrubs containing used coffee grounds. It followed that last August with face masks made from repurposed hemp husks.
Last month, Optiat overfunded in its first-ever crowdfunding initiative, passing the £150,000 target within the first week of its Crowdcube push and raising a total of £217,610.
Demand for more natural ingredients in beauty products added £1.4m to sales of facial scrubs in the past year, according to new IRI market data. Four out of 10 of the top-selling facial scrub brands use clay, sugar, salt or fruits as alternatives to plastic microbeads, in a market valued at £11.7m across grocery. A UK ban on microbeads came into force on 9 January.