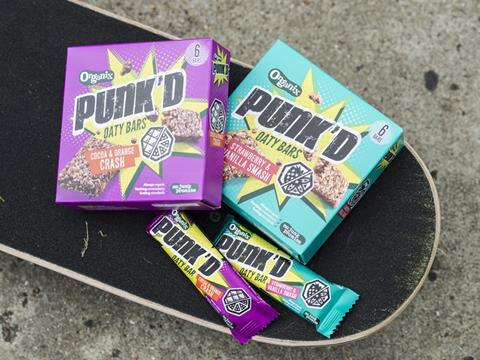 Baby snacks brand Organix has launched a range of healthy snacks called Punk'd to target five to 10-year-olds, which it hopes will create sales of £20m.
The NPD is the first range of cross-category healthy snacks to target this age group, with products and packaging designed to appeal directly to children while reassuring mums looking for healthy snack alternatives for kids.
The first two products in the Punk'd range – oaty bars called Cocoa & Orange Crash and Strawberry & Vanilla Smash (rsp: £2/six bars) – will be initially available in Ocado and Amazon. Popcorn, fruit & nut, biscuits, crisps and savoury snacks are set to follow.
There was a gap in the market for healthy snacks aimed at five to 10-year-olds, and parents struggle to find good snacks for children after they leave the baby aisle, said Anna Rosier, MD at the Bournemouth brand. "Punk'd plugs that gap and, if we replicate the success of Organix Goodies, can provide incremental growth of £20m."
Punk'd – the "snack food with attitude" – offers the same 'no junk' policy that has made Organix the biggest brand in finger foods and snacks in the baby aisle and will include SKUs in areas where Organix already has expertise in the baby category.
Unlike the baby products, where Organix branding is lead, packaging is dominated by the Punk'd ident to appeal to children. "Organix believes kids' food doesn't always cut it, so we're starting a snack revolution with Punk'd,"said Rosier.
Organix, which will be 25 years old next year, introduced the snack category to the baby market in 2002, now worth £62m [IRI 52 w/w 9 July 2016]. It has commissioned influential health reports including one that resulted in Jamie Oliver's shake-up of school dinners and the EU's voluntary ban of azo dyes in kids food.