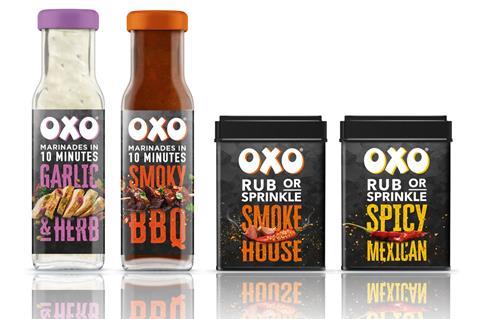 Stalwart stock brand Oxo is making a major move into rubs and marinades to tap the boom in home cooking.
The Premier-owned brand has created two rubs – Smoke House and Spicy Mexican (rsp: £2/35g) – and two marinades – Garlic & Herb and Smoky BBQ (rsp: £2/275-285g) – in a bid to "bring the brand's large shopper base to a developing part of the category", it said.
It marks the first time the brand has forayed outside of stocks.
The range would offer "a point of differentiation to the specialist products currently available in the sector that offer more niche flavours", said Oxo.
The marinades are touted as imparting flavour in just 10 minutes, challenging "the common shopper misconception that marinating needs to take a long time or can only be tackled by more experienced home cooks", said the brand.
The rubs, meanwhile, were "made from high-quality, authentic ingredients to give a variety of meat or vegetarian dishes extra flair and help developing home cooks broaden their repertoire".
Shoppers were "more confident in the kitchen now and more willing to experiment with new dishes, cuisines and products" and the Oxo brand was "known to deliver high-quality, bold flavours that can be enjoyed by the whole family", added Oxo marketing controller Tejas Salway.
The entire range will roll into Asda from 15 April.