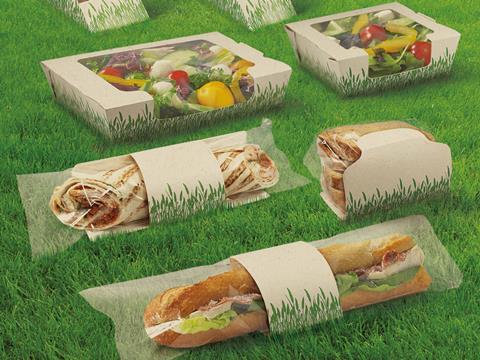 Food-to-go packaging supplier RAP has ramped up its selection of plastic-free formats made from agricultural waste.
Launched under the new Precious Planet brand, the eco-packs are made from stems and leaves left after crops such as wheat, rice and sugar cane have been harvested. The paperboard can be recycled up to seven times, while the whole packs – including the wood-based cellulose – are compostable, biodegrading fully within six months in industrial composting.
Initial response from foodservice distributors had been "very positive" said RAP, which sources its agri waste from overseas paper mills. "The majority have agreed to list the range – and we have a number of retailers and institutions looking to brand the range with their own logos."
Precious Planet's launch this week is UK only, although a rollout into Europe is planned for March 2019. RAP, which declined to discuss pricing, said it was "very confident" its supply chain would be able to meet demand – while supply could "be expanded as required to meet any unexpected increases in demand".
The Precious Planet packaging for sandwiches and ­salads would "help pave the way for further developments to meet the needs of both the retailer and the more environmentally-conscious consumer" predicted RAP CEO Graham Williams.
It comes as RAP is set to announce a deal with a "major multiple retailer" for its AgriRAP sandwich wedge made from agri waste, unveiled in June. "We have noticed a considerable change in the marketplace, with food companies and retailers both exploring plastic-free options," said Williams.