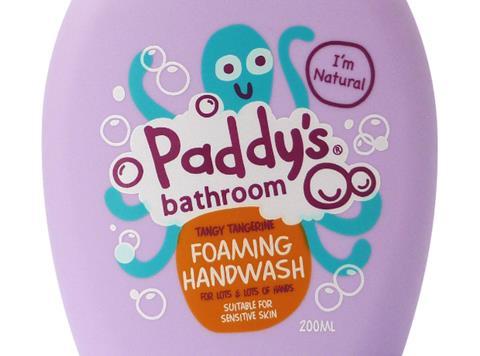 Paddy's Bathroom has given its toiletries for kids a major overhaul, replacing the seven-strong range with a lineup of five products and introducing new packaging.
Rolling out now via RH Amar, the quintent of SKUs comprises Gentle Baby Bubble Bath and Tangy Tangerine Bubble Bath (250ml), along with Tangy Tangerine Foaming Hand Wash, Juicy Pineapple Hair & Body Wash, and Squishy Mango Hair & Body Wash (200ml).
Rsp is £3.99 across the selection, having previously varied from £4.49 to £5.99 for packs sized from 200ml to 400ml. The changes mean Paddy's Bathroom bubble bath is now almost 7% more expensive, while its handwash is about 12% cheaper.
The products come in ergonomic packaging, meaning "the sensory experience starts the moment our new bottles are picked up or held", said Paddy's Bathroom founder Paul Lindley, who also created the Ella's Kitchen babyfood brand.
Set to be the focus of an ad campaign next month, the toiletries were developed with the help of researchers at the University of Reading. The lineup is 98% natural and features fruit fragrances chosen following "close collaboration with parents", according to Lindley.
"This is a really exciting time for Paddy's Bathroom," he added. "We will be starting the new year with a real splash."