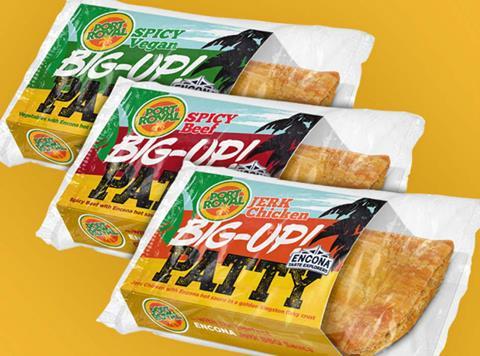 Jamaican food brands Port Royal and Encona have teamed for a range of premium on-the-go snacks.
The two suppliers have created three Port Royal patties flavoured with Encona sauces, launching them under the name Big-Up to capitalise on growing demand for Caribbean street food.
At 160g, the chilled patties are 13% heavier than Port Royal's standard 140g range. They are made with a mix of shortcrust and traditional Jamaican flaky crust. The Spicy Beef and vegetable-based Spicy Vegan variants include Encona Hot Pepper sauce, while Jerk Chicken contains Encona Jamaican Jerk BBQ. Each comes in a pack with a window.
The Big-Up trio is due to go on sale in Morrisons from February with an rsp of £1.49 – 64p more per snack than Port Royal's core lines.
The collaboration with Port Royal "couldn't have come at a better time" said Encona brand manager Jack Hillaby. "Caribbean food is becoming more and more mainstream. We are offering the market something genuinely new and exciting."
Port Royal MD and founder Edward Johnston added: "To create a new taste sensation, we have collaborated with the perfect partner in Encona, as we were always dipping our patties in their sauces anyway."