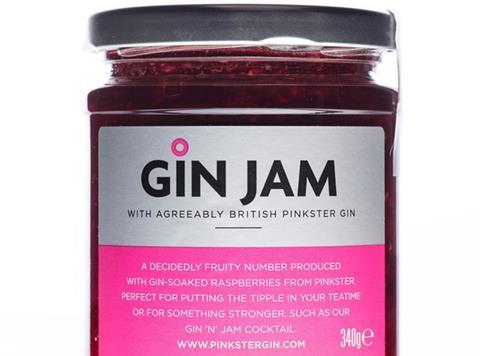 Premium gin brand Pinkster is going for a slice of the preserves market with an alcohol-infused jam.
Gin Jam, available now, is made with fresh gin-infused raspberries left over from the producer's gin production. It comes with a 2.5% abv in a 340g jar format (rsp: £6.50).
The launch of the mildly alcoholic preserve, produced by The Wooden Spoon Preserving Company, followed a "small, successful trial" with selected retailers and bars, said MD Stephen Marsh.
"Jam appears to be on-trend as a cocktail ingredient and, buoyed by the trade reaction to our own Gin 'n' Jam cocktail, the logical next step was to produce the jam itself."
Pinkster, distilled by G&J Distillers and launched in 2013, added dessert ingredient Boozy Berries - its first brand extension - in April 2015. Marsh said the jars had proven "mighty popular", with more than 18,000 sold to date.
"The bulk of raspberries used in producing Pinkster are recycled as Boozy Berries, with the ones that don't make the cut because they're rather too mashed, now being used for Gin Jam," he said.
Last week, Pinkster revealed its first limited-edition bottle for Valentine's Day in addition to the brand's first gift packaging designed for both the regular and special edition bottle.