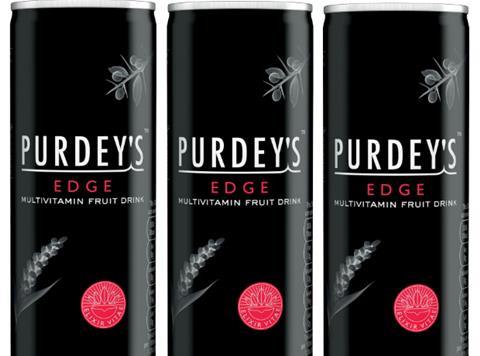 Britvic is set to pour Purdey's into a can for the first time in the natural energy drink's 29-year history.
A 250ml format will arrive on shelf this month as an exclusive for independent c-stores, in a £1.19 price-marked pack for both variants, Rejuvenate and Edge. With a "sleek, modern" look, the new can aimed to tap more on-the-go occasions and was aimed at "health-conscious consumers looking for a more sustained energy boost from vitamins as opposed to caffeine" said Britvic. Only one in nine shoppers currently bought natural energy drinks, it added.
The launch will be backed by a £3m push. It comes as Purdey's – launched in 1988 and available in a 330ml glass bottle – is worth £5.5m having added 22.8% to its value in the past year [Nielsen 52 w/e 18 March 2017].
"With a rise in clean and healthy eating, as well as a desire for sustained energy solutions, Purdey's offers consumers a cleaner alternative to the established energy drinks brands on offer," said Britvic marketing director Kevin McNair.