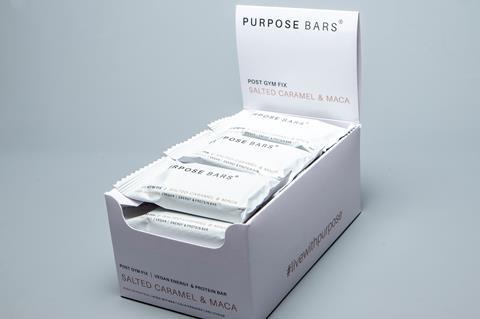 UK startup Purpose Foods is set to make its grocery debut with a range of vegan snack bars designed to be gut-friendly.
The three-strong lineup of cold-pressed Purpose Bars is made from pea protein, chicory root, cacao, oats, almonds and sunflower seeds, with no added sugar.
Pea protein was "predicted to be a big trend of 2019", according to Purpose Foods, while chicory root was "the only scientifically confirmed plant-based prebiotics with proven health benefits, which include improved digestive health, calcium absorption and weight management".
Designed to capitalise on the planet-based eating trend, each variant is aimed at a different snacking occasion. Almond Butter & Oat Brekkie On The Go, Salted Caramel & Maca Post Gym Fix and Crunchy Choc Brownie Crave Kicker (rsp: £2/40g) are available now online and in selected coffee shops and boutique gyms in London – with grocery listings expected next month.
Each 100g of Purpose Bars provides between 18g and 23g of protein, and an average of 13g of fibre. Fibre was an "ingredient set to dominate the gut conversation this year" said Purpose Foods. "Products that can help reduce feelings of gas, bloating, or more severe gastrointestinal symptoms are highly sought after, with consumers looking beyond probiotics to products that also contain prebiotics."
The bars come in simple white packaging that had been "created with purpose" said the supplier. The design was "super-clean so that people can easily read the ingredients and understand the brand purpose, which is essentially to supply consumers with nutritious and delicious snacks that support healthy gut function and to inspire healthier food choices".
Purpose was founded by Nina Netland after a bout of IBS in 2016 left her hospitalised for several weeks. Having identified dairy, refined sugar and artificial additives as ingredients that triggered her condition, she began work on her own gut-friendly snack recipes.
Her aim was to "supply consumers with nutritious and delicious snacks that support healthy gut function and to inspire healthier food choices" she said. "We want to use our platform to educate on IBS, and to inspire people to lead their best lives."