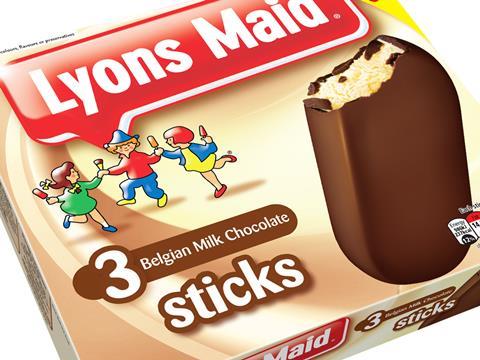 R&R Ice Cream is expand­ing Lyons Maid to offer a full range of price-marked alternatives to own label in take-home and impulse.

Targeted particularly at smaller convenience stores, the new take-home products will roll out next month and comprise one-litre and four-litre tubs, and packs of choc ices, cones, splits and stick formats. New impulse products to roll out in April include ice cream sticks and cones.

Products will be ­provided in branded ­outers to act as PoS for smaller c-stores.

"Currently, for small retailers the opportunity does not exist to compete with the value offered by own-brand labels," said R&R marketing head Charlotte Hambling. "The range will create an opening for convenience outlets to be competitive with pricing."

The take-home range comprises: Strawberry Cones (rsp: £1.25/four), Fruit Splits (£1/four), Milk Chocolate Sticks (£1.25/three), Choc Ices (£1.25/eight), Ice Cream Brick (£1.25), Ice Cream Roll (£1.25), one-litre tub (£1.75), two-litre tub (£2.50), four-litre tub (£4). Impulse range: Chocolate Ice Cream Sticks (70p), Pop-up lollies (60p), Strawberry and Chocolate Cones (60p).

Many are priced in line or below current prices at the big-four supermarkets, according to BrandView.com data. Some supermarket lines are cheaper than Lyons Maid however, including two-litre tubs of standard ice cream, which are currently £1.83 on average at the big four.

Lyons Maid became part of R&R in 2001 when R&R acquired the Nestlé ice cream business.