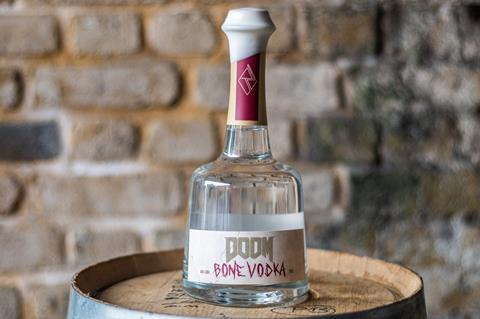 Craft spirits brand Rebel Distillers has created a vodka made from beef bones to tie in with video game Doom Eternal.
The vodka, called Doom Bone Vodka (44% abv), was created in partnership with the game's developer Bethesda and London-based butcher The Ginger Pig.
To make it, beef bones were roasted and smoked, and the marrow extracted and macerated in neutral grain alcohol. The first batch will roll out at the end of this month, ahead of the launch of Doom Eternal in November (rsp: £45/70cl).
It had "a dry, earthy start on the palate", with a "wonderful umami and buttery feel on the tongue", said the brand, "rounding off with a smoky and peppery finish".
The brand's founder Matt McGivern said Rebel Distillers was "tapping into one of the world's favorite hobbies, video games, to offer a unique perspective in spirit production".

It's not the only booze brand looking to the world of video games this month. London's Beavertown has also partnered with games publisher 2K for a tie-in beer with the upcoming release of post-apocalyptic action game Borderlands 3.
The beer, called Bandit Brew (2.8%), is a light IPA with "tropical notes of Pina Colada, passion fruit and fresh citrus".