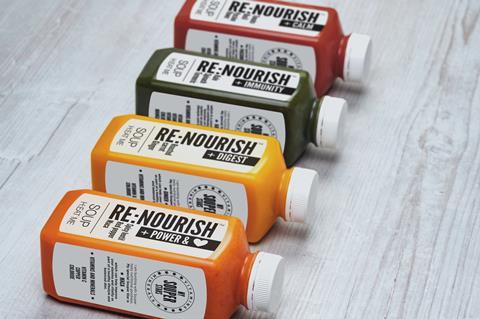 New UK brand Re:Nourish has rolled out what it claims is the world's first on-the-go fresh soup in a heatable bottle.
Aimed at "time-poor but health-conscious" shoppers, the four-strong range of plant-based soup would create "a unique on-the-go eating occasion for the high-growth lunch market" Re:Nourish claimed.
Available from Planet Organic and independent stores, each soup (rsp: £2.80/500g) is packed in a bespoke bottle created by brand founder and CEO Nicci Clark, made from heavy gauge polypropylene, to allow consumers to microwave the product and drink it directly from the fully recyclable bottle. Large labels on the sides are intended to serve as insulation.
The variants are Digest (roasted carrot & ginger), Immunity (kale, spinach & turmeric), Power & Love (spicy lentil, red pepper & maca) and Calm (tomato, basil & passionflower). They contain no dairy, gluten or added sugar.
Re:Nourish evolved from Clark's company Nourished, which was founded in 2010 as a fresh food delivery business, which found its soup to be popular with customers.
"We see soups as the new juices in delivering a flavour-filled experience that is both delicious and healthy," she said. Traditionally, soup had not been "the most convenient food", but Re:Nourish's "revolutionary patented packaging changes the status quo, as soups can now be heated and either enjoyed straight away or resealed and transported to eat on the go".