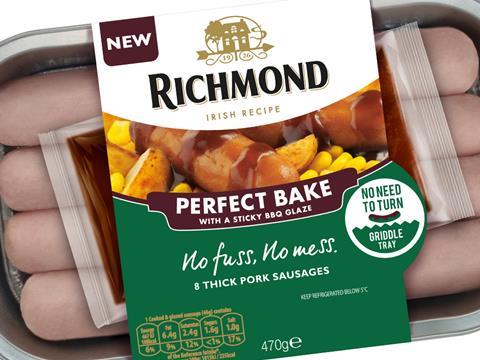 Richmond is looking to tap the burgeoning 'ready to cook' trend with a new sausage eight-pack that doubles as an oven-ready griddle tray.

Launching later this month, Richmond Perfect Bake also contains a pour-over sauce glaze, available in three variants: BBQ, Caramelised Onion and Plain (rsp: £2.89 per 410g pack).

Perfect Bake will be rolled out to Morrisons stores from 23 March, and Asda and The Co-operative Group stores from mid-April.

Richmond owner Kerry Foods said the new product was designed to remove the "fuss and mess" from sausage cooking, and was primarily aimed at "mums looking for an easy solution for family meals".

Richmond brand manager Joe Hunter added the brand had developed Perfect Bake after seeing opportunity in the "huge incremental growth" of 'ready to cook' products in other meat, fish and poultry categories.

"Richmond sausages are enjoyed by millions of families every week, and our research showed there was a great opportunity to extend usage and consumption with a new added-value range that offered our consumers the great taste of Richmond but without the fuss and the mess of cooking," he said.

"With oven-ready Perfect Bake we firmly believe consumers can enjoy the great taste of Richmond that they know and love for the least amount of effort."

The launch would be supported by a "strong" marketing campaign including above the line, in-store execution and out of home activity, Hunter added.