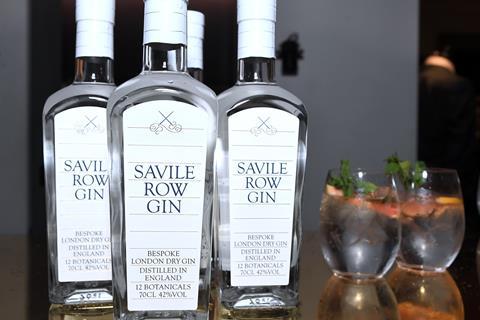 A 42% abv London dry gin that counts kumquats as a 'signature ingredient' has launched, with backing from celebrity model David Gandy.
Savile Row Gin, made with a blend of 12 botanicals and said to have 'citrus notes balanced by coriander and pepper', has launched into Fortnum & Mason and from Master of Malt (rsp: £39.95/70cl).
The brand was founded by the publisher of Savile Row Style Magazine Stewart Lee, who said he wanted it to celebrate "Britain's proud tailoring heritage".
"With the name comes a level of expectation. Using the same artistry and attention to detail, we feel we have crafted a gin that the Row would be proud to serve. David embodies the refined elegance and style of Savile Row and I am delighted to have his support, both as an ambassador and investor for the brand."
Gandy, a serial investor in small British brands, said the gin stood out for its "smoothness and flavour".
"I loved the fact it is a quintessentially British product, produced in the UK and curated on one of Britain's most iconic streets, one that stands for craftsmanship and quality," he said.