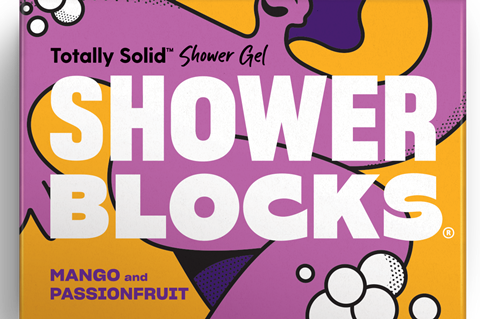 The founder of insect snacking brand Eat Grub has expanded into personal care with Showerblocks, a plastic-free personal care range.
Neil Whippey has self-financed a six-strong lineup of premium shower bars made with a blend of hemp, sunflower, coconut and olive oils, along with sustainable palm oil.
The formulation created "a perfect balance of fatty acids to make your skin feel great at every stage of your shower" he said. There was "no sticky dry feeling normally associated with soap". Unlike many shower gels, however, Showerblocks is not suitable for hair.
Mango & Passionfruit, Mint & Grapefruit, Coffee & Vanilla, Lime & Sandalwood, Pepper Mint, and Naked Unscented (rsp: £4/100g) are packed in recyclable cardboard. Each saved plastic equivalent to 1.5 standard (250ml) bottles of shower gel, said Whippey.
"With the shower gel market contributing plastic waste to landfill and the ocean in the billions of units globally, more sustainable options are clearly needed," he added. "The UK market alone contributes a staggering 200 million bottles, with 80 million-plus going to landfill every year."
Having had the initial idea for Showerblocks in mid-2019, Whippey makes the bars himself at a rented facility in north London. They will be available from mid-October via the Showerblocks website, followed by Amazon and other retailers.
Showerblocks' aim was "to take on the larger shower gel players" Whippey said. He wanted "to take some of their shelf space while offering consumers the opportunity to switch to non-plastic."
The brand has teamed up with charity Toiletries Amnesty to help alleviate personal hygiene poverty in the UK and abroad. With every sale of a regular shower bar, Showerblocks will donate a 30g mini bar.