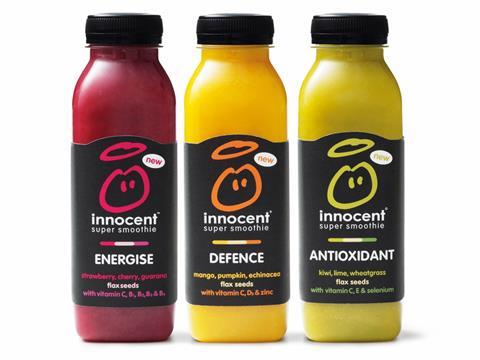 Health-focused NPD has helped pep up the performance of the once-ailing smoothies category.

Kantar Worldpanel recorded a 10% year-on-year drop in smoothie sales 12 months ago, but value is now up 3.4% to £88.9m [52 w/e 7 December 2014]. Industry insiders say the market has been boosted by products containing vegetables and ancient grains, which have helped to alter perceptions of smoothies.

"Last year was tough for traditional smoothies, particularly with concerns over sugar, but vegetables and antioxidants have helped change the way consumers view the category," said Andy Gibb of Coldpress.

One success story has been Innocents's three-strong Super Smoothies range, which lists echinacea and flax seeds among its ingredients. Launched last April, it has clocked up about £9m in retail sales [IRI 52 w/e 31 January 2015]. This has not been sufficient to offset a £12m drop in sales of Innocent standard smoothies, but UK marketing head Helen Pomphrey said the business was "absolutely committed" to growing its core range. "We will support this with above-the-line spend and are looking at the range to see what the future look and feel might be."

Pomphrey said, in addition to NPD, grocery smoothie sales had been boosted by increased featured space and linking promotions to juice.

Other smoothie ranges to grow sales in 2014 were Coldpress, Vegesentials, Savse and PepsiCo's Naked.