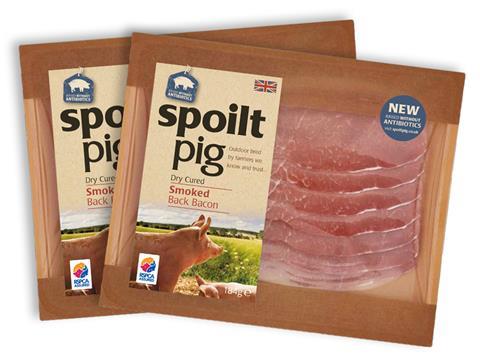 High-welfare bacon brand Spoilt Pig has launched the UK's first 'Raised Without Antibiotics' rashers.

Rolling out in major retailers including Tesco and Morrisons later this month, the new Raised Without Antibiotics bacon range comprises Dry Cured Smoked and Unsmoked Back Bacon, and Dry Cured Smoked Streaky Bacon. Prices start at £3.

The range is RSPCA Assured, and comes from pigs raised in a unique farming system developed with Karro-owned Brydock Farms.

Under the system, piglets are farrowed outdoors before being bought indoors at weaning age, and kept at low densities on deep-straw bedding with natural ventilation. There is no tail docking or teeth clipping, which is common on intensive pig farms, and weaning takes place slightly later.

These practices reduce the risk of illness: 85%-90% of pigs reared in the system never needed antibiotic treatment, the brand claimed.

When pigs in the herd need antibiotic treatment, they are given it on an individual basis, and processed separately as regular RSPCA-approved pork and bacon.

"The Raised Without Antibiotics launch was born out of Spoilt Pig's concern regarding the global issue of antibiotic resistance highlighted by the WHO in 2014," said MD Jim Loescher. "Through our partnership with Brydock Farms, we are able to provide consumers with an alternative choice."

The Grocer revealed last June that Karro had registered an 'antibiotic free' trademark with the Intellectual Property Office. At the time, the pork processor said it had developed a "consistent supply of antibiotic-free pork" through its supply chain.

Morrisons also registered 'Morrisons Raised Without Antibiotics' as a trademark for product categories such as meat, poultry and eggs, back in September. However, the new Spoilt Pig range is the first meat bearing a 'raised without antibiotics' label to hit UK supermarket shelves.

The launch was hailed by the The Alliance to Save our Antibiotics, which said it "shows how major improvements in animal husbandry and welfare can greatly contribute to reducing farm antibiotic use, while still delivering affordable meat."

It comes as figures collated by the British pig industry and released by RUMA last week revealed the sector's use of Colistin - a 'last resort' antibiotic for serious infections in humans - fell by 70% last year.

The findings suggested the UK could now be one of the five lowest users of Colistin in Europe, said RUMA chair Gwyn Jones.

"This shows the pig industry is really engaging with this issue and making some very strong progress in reducing, refining and replacing antibiotics use," he said.