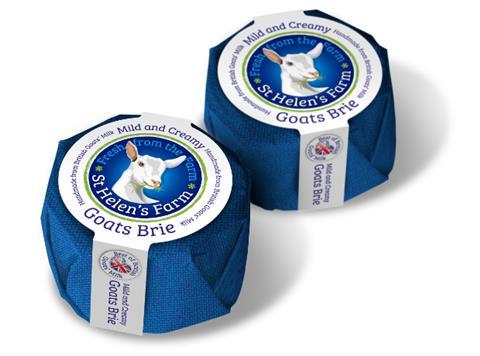 Goats' milk supplier St Helen's Farm has taken its first foray into the mould-ripened cheese category with the launch of a brie made from Yorkshire goats' milk.

St Helen's Farm said the handmade "mild and creamy" brie would give the brand presence in a category which accounted for almost half the value of the market for goats' cheese and was seeing "good growth".

The product went on sale in selected Waitrose stores this week (rsp: £2.95/125g) and was a departure for the brand, said marketing manager Vicky Unwin, with St Helen's Farm previously concentrating on the hard goats' cheese category.
"Mould ripened is a sector that will benefit from the presence of the country's leading goats' brand," she said.
"We know from research that consumers trust the St Helen's Farm logo and the Goats Brie branding will clearly communicate the type of product they can expect. This is a sector where consumers have been reluctant to try new products in the face of unfamiliar brands and formats, so we're delighted to bring this new extension to our range."
The launch is part of a raft of new initiatives from the east Yorkshire producer, which recently announced a design revamp of its entire portfolio.
It said other new lines were also planned for the coming months, in addition to a marketing campaign that would combine print, social and digital media, and sampling to encourage trial.