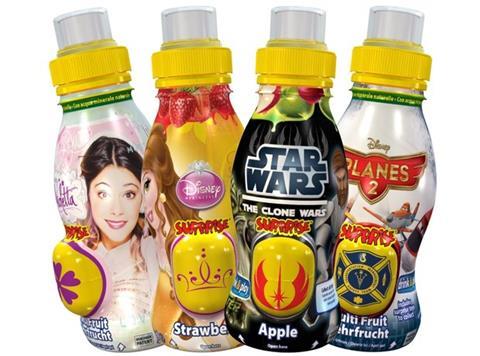 Drinks distributor Dream Drinks is bringing a range of fruit juices that contain collectables to the UK market.
Available online now, the Drink & Play range comes in four flavours that feature licensed Disney characters: Star Wars in apple, Disney Princess in strawberry, Disney Planes in mixed fruit and Violetta in cherry. Each drink contains a collectable - ranging from stickers and tattoos to pendants or figures - that is contained in a compartment on the front of the sports cap bottles.
The fruit juices are "certified to the highest standards of food production", said the business, and contain natural vitamins, minerals and at least 30% fruit juice content with no preservatives, said Gareth Price, director of Dream Drinks, adding the business had secured sole distribution rights for the brand in the UK.
"Our MD came across the drink on a family holiday in Cyprus and found it was an immediate hit with his kids," said Price. "We quickly recognised the product's potential and are delighted to have secured the rights."
Further popular characters were set to join the initial line-up soon, he added.