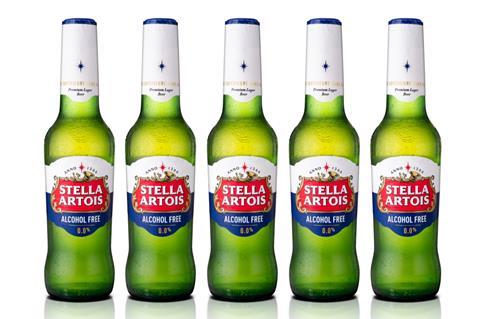 Budweiser Brewing Group is taking Stella Artois into low & no with a new alcohol-free version of the lager.
The 0% beer is billed as "the latest expansion of 'La Famille Artois' to suit different consumer preferences and occasions" and contains 60 calories per 330ml.
The brewing giant said it had "taken 600 years of Belgian brewing heritage and combined it with our best, all-natural ingredients, to create an alcohol-free lager that is bursting with flavour", said Stella Artois Europe director Ali Humphrey, resulting in a "pronounced hoppy bitterness and a crisp, clean and refreshing finish".
It comes as The Grocer revealed last week Budweiser Brewing Group was axing its 2017-launched Budweiser Prohibition Brew and replacing it with a new Budweiser Zero lager, which has a completely different recipe and 46 calories per can.
Budweiser Brewing Group has said it wants 20% of its global volumes to come from low and non-alcoholic drinks by 2025.
Willam Reed – the publisher of The Grocer – has launched an exhibition exclusively for the low and non-alcoholic drinks sector. For more information visit www.low2nobev.com