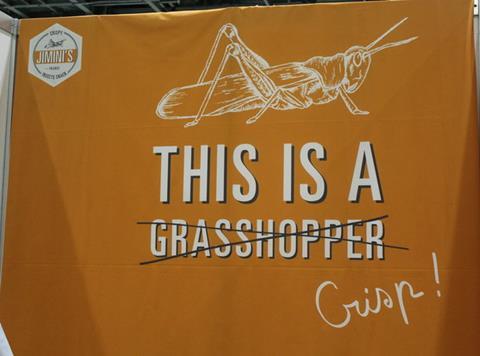 Hundreds of producers and brands gathered at the Excel for the BBC Good Food Show Summer in the City event at the weekend. – which featured a special 'Eat Well' section – this weekend. Consumers and attendees were lining up to taste new flavours, sample goodies in the special 'Eat Well' section and explore the latest innovations from producers from all over the country – and meet Davina McCall in the flesh, of course.
So what were the key trends on display at the show? Here's our pick of five highlights:
1. Everything is about what it's not
The Eat Well section of the show covered at least a third, if not more, of the exhibition space. You'd have been hard-pushed to find one stand that didn't feature the word 'free'. Though in the past this may have been followed by the wonderful word 'sample', this weekend was all about gluten, dairy, nuts and sugar.
Chocolate in the shape of animals from Cocoa Libre was dairy, wheat and nut free; Bakels was showcasing a gluten-free bread mix range complete with recipe cards, and I lost count of the number of stands with sugar-free goods. From peanut butter to ice cream, everyone is jumping on the 'free from' bandwagon.
2. Craving some extra protein? How about a cricket for a post-gym snack?
"It is estimated that 80% of the world's population eat insects intentionally, and 100% do unintentionally," according to an information flyer on Gathr's stand. Promoting the Crobar energy bar, made with cricket flour, this rather ominous introduction to the world of insects wasn't taken well by some.
Several attendees were disgusted by the insects-as-protein idea, which was displayed in particularly visceral fashion at insect brand Jimini's stand, where flavoured crickets, grasshoppers and mealworms were on show in all their winged and wormy glory. One woman actually backed away from the stand after noticing its contents, a reaction the brand tells me it wholeheartedly wishes to change.
The bars certainly hit all the buzzwords of the moment, offering high protein levels, minimal waste and environmental benefits. Despite hesitancy by consumers at the show, insects are already making it onto shelves. Jimini's announced its Selfridges listing earlier this month, following Fortnum & Mason and Planet Organic. Which retailer is next?
3. Alternatives here, there and everywhere
You've heard the chatter; too many carbs are bad, all superfoods are great. Well, this trend isn't going away. Joining the spiraliser in the quest to provide an alternative for pasta is seaweed. Seamore hopes it can replace everything from pasta to bacon.
The first in its range is I Sea Pasta – seaweed in tagliatelle form that's a little more al dente than regular pasta. The brand's founder, Willem Sodderland, tricked his children by feeding them seaweed for dinner one day – and, you guessed it, they didn't notice.
4. School lunchbox standards have made an impact
Several brands were showing off new products suitable for school lunches. Nothing But is just one of the brands targeting parents looking for healthy school snacks – packaging nothing but freeze-dried fruit & veg.
The pea & sweetcorn snack mix was particularly interesting. Though slightly discoloured by the freeze-drying process, the vegetables pack a punchy flavour. The Good 4 U brand has also created a range of super bites it says are "lunchbox friendly". Made from dates, seeds and other dried fruits, they are a smaller version of an existing product , which boasts 50% less sugar than competing brands.
5. Why have one superfood when you can have two?
It seems one superfood is no longer enough to satisfy. Now brands are trying to pack as much goodness into one product as possible. Take BelSeva's birch water for example, which now comes in a matcha green tea flavour.
It wasn't the only matcha product at the exhibition, but the first to combine the tea with birch water, according to the brand. Creative Nature also paired two superfoods in its chia & mulberry muffin mix. Don't be fooled by the muffin label, though – this mix is gluten and dairy-free too.