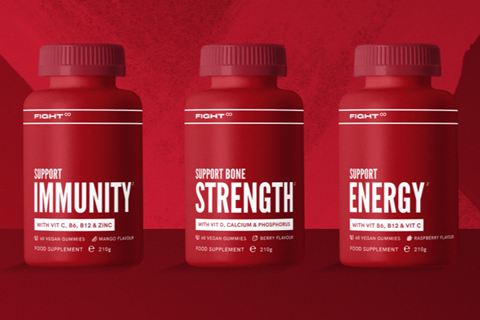 Vegan supplements startup Fight has partnered with FareShare.
The brand, which launched on Amazon last week, will make a meal donation to the charity every time a bottle of its supplements are bought, and has pledged to donate at least 100,000 meals to FareShare in the partnership's first year.
It is the first time FareShare has partnered with a vitamins and supplements brand.
Fight supplies a range of vegan nutritional supplements, comprising multivitamin gummies for immunity, energy and bone strength, and 'single letter' vitamin tablets in vitamins C and D and zinc (rsp: £18-£25).
Product manager Niccolò Gasparoli told The Grocer that the brand name, Fight, represented "its fight against malnutrition in the UK". He cited Food Foundation data that suggested 14% of adults living with children experienced moderate or severe food insecurity in the past six months.
He said the brand wanted to help vulnerable people as well as those with vitamin deficiencies who supplement their diet with Fight's range of products.
"We believe everyone should have access to good nutrition", said Gasparoli, adding vitamins and supplements were "a way to support a healthy and balanced diet – not a substitute for a good meal".
"Our aim is to support the healthy and balanced lifestyles of people across the country, while helping to change the statistics around undernutrition, one bottle at a time," he said.