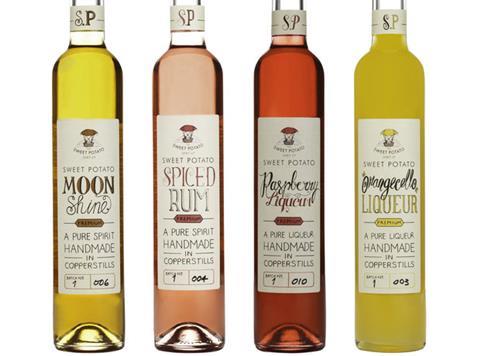 A sweet potato importer has launched what he claims is the UK's first range of spirits and liqueurs made from the vegetable.
The Sweet Potato Spirit Co was founded by Garry Smith, a shareholder in Scott Farms, a major importer of sweet potatoes into the UK. The range, which launched this month online, includes two 42% abv spirits - moonshine and spiced rum (rsp: £29.95/50cl) - and two 22% abv liqueurs, raspberry and orangecello (rsp: £15.95/50cl).
The moonshine, which is also used as the base for the two liqueurs, is distilled from a mix of sweet potato and beet sugar, while the spiced rum is made with cane sugar molasses, sweet potato and spices. They are produced in East Anglia.
"The project was born over breakfast during a visit to the farm in North Carolina, USA, when a waitress asked if you could make spirits from sweet potatoes like you could from potatoes," said Smith. "We didn't know the answer but were determined to find out, and there began an exciting journey.
"We've been stunned at the sales rates that have been achieved since the launch and the positive feedback about the product and its branding. We're currently in talks with retailers and distributors in the UK and overseas."
California distillery Corbin produces vodka, gin and blended whiskey distilled from sweet potato, while the vegetable is also one a range of ingredients used to make Japanese spirit shochu.