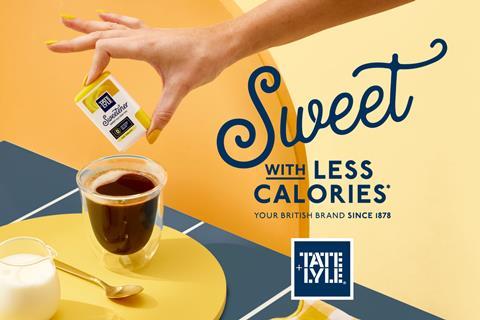 Tate & Lyle Sugars has added a low-calorie sucralose sweetener.
The NPD is available in a 300-count tablet dispenser (rsp: £2) and a 75g resealable pouch (rsp: £1.80).
The pouch format is more concentrated to offer a cost saving, meaning consumers need to use less product to deliver the same amount of sweetness.
Furthermore, it is recyclable, uses less packaging material than a traditional bag or box, and takes up less space on the shelf for retailers.
Meanwhile, the tablet dispenser is suited to use on-the-go.
Both have rolled into Asda and Sainsbury's and will hit Co-op shelves in January 2024.
The NPD will also replace Tate & Lyle Sugars' former Zucro sweetener in foodservice.
Tate & Lyle Sugars said it had "worked tirelessly to ensure the product meets key consumer needs".
The resultant product dissolved easily in hot drinks without frothing and had a similar texture to real cane sugar, it added.
According to Tate & Lyle marketing manager Sandra Gonilho: "We've seen a growing trend towards consumers regularly opting for sweetener."
This trend was "expected to continue as consumers remain focused on exercising greater control of their diets," Gonilho added.
It comes after sugar prices have hit record highs in recent months, due to poor weather conditions affecting beet crops across Europe, as well as sugar cane production in other major producing countries such as Brazil and India.